Quiet, Please - Old Time Radio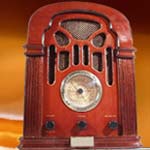 One of the great thrillers in radio history, Quiet, Please premiered on Mutual Broadcasting System on June 8, 1947 for 30 minutes, and then moved to ABC in 1948 until its final show on June 25, 1949. The brainchild of Willis Cooper, who previously garnered some success with the equally sinister Light's Out, "The Army Hour," and some film scriptwriting, "Quiet, Please" did not attain full respect until years later when scholars and other writers analyzed its ingenious writing and acting.
Cooper and the star of the show, Ernest Chappell, had worked together earlier on the Campbell Playhouse, and, despite Chappell's lack of acting experience, Cooper tapped him for the lead role.. This proved to be a solid decision as Chappell's natural gifts for voice quality made his characters distinctive, and his measured sense of pacing made the show intentionally chilling.
Episodes opened with Chappell's deep voice softly announcing, "Quiet, Please" followed by ominous-sounding organ and piano chords, and long, deliberate pauses that created "dead air." He sets up the stories in first-person voice, which brings forth an air of intimacy to the show. The telling of the stories move along through the use of weaving between first-person narration, dramatization, and flashbacks, all punctuated by foreboding music and sparse use of sound effects. Never more than 2 or 3 other actors appeared on each episode, most often to play female parts.

There are 89 shows in our collection!
Date Aired
Some People Don't Die
December 8, 1947
I Have Been Looking For You
June 15, 1947
I Remember Tomorrow
July 27, 1947
Inquest
August 3, 1947
In Memory Of Bernardine
November 24, 1947
Kill Me Again
November 17, 1947
Take Me Out To The Graveyard
November 3, 1947
Don't Tell Me About Halloween
October 27, 1947
Be A Good Dog Darling-missing-second-half
September 22, 1947
We Were Here First
June 22, 1947
Bring Me To Life
August 10, 1947
Not Enough Time
October 6, 1947
Camera Obscura
October 13, 1947
Cornelia
July 20, 1947
Little Fellow
December 15, 1947
The Ticket Taker
June 29, 1947
Rain On New Year's Eve
December 29, 1947
Nothing Behind The Door
June 8, 1947
Come In Eddie
December 1, 1947
Three
November 10, 1947
How Are You Pal
September 10, 1947
And Jeannie Dreams Of Me
October 17, 1948
Good Ghost
October 24, 1948
Berlin 1945
December 26, 1948
The Man Who Stole A Planet
July 26, 1948
AND MANY MORE



Other Vintage Radio You'll Like:
Try these other Old Time Radio Shows out for size!